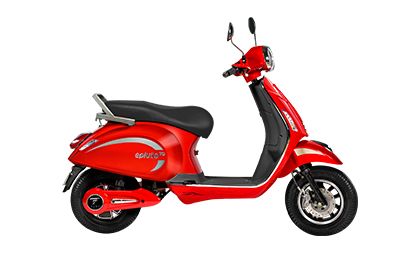 INTRODUCTION
EPluto 7G is the premium electric two-wheeler designed to give the most comfortable riding experience. With its multispeed smart design very convenient for long thrill rides. The EPluto 7G is a low-speed scooter that doesn't need a license and registration. This electric scooter is a high-speed variant, which can go up to 65 kmph. This Pure EV is available in red, black, blue, grey, white, yellow as well, to make you stand out in the crowd.
Ratings
0%

Performance

0%

Features

0%

Handling

0%

Comfort

0%

Build Quality

0%

Styling

0%

Value for Money

0%

Total
Price


SPECIAL FEATURES
2
REMOVABLE Li-ION BATTERY
PURE EPLUTO 7G Videos
PURE EPLUTO 7G OVERVIEW
The battery of EPluto 7G is mounted inside the seat. The battery weighs 14.5 kgs and is kind of heavy but is fairly easy to remove and carry along. The battery pack has 2.5 kWh worth of energy stored inside it. The e-scooter battery is removable, the battery can be taken home or at work to charge. The 6-amp charger is compact and charging at low rates is good for the life of the battery. It has yellow turn indicators and bright visible brake & signal lights.
The backlit digital LCD display is very neat with all the information like Speed, Odometer, Turn Indicator, Battery Status Bars. With EPluto 7G one can glide through the distance with a companion, emission-free & anxiety-free. The Charge Indicator on the LCD shows a blue light when charging and goes green when fully charged. The PureEV EPluto only consumes 2.5 units (kWh) of electricity on fully charging the battery. Very good economy for those who use it as a means of a daily commute. The battery life is very satisfying as that bothers the customers a lot. Anti-theft provision with smart lock is also a noticeable feature in it. The comfortable and durable saddle gives you the most comfortable ride. The PureEV EPluto has a retro look with some fab colors. The stylish mirrors complete its look and also offers a good view of traffic behind.
PURE EPLUTO 7G VERDICT
PROS
Got classic design lines
Equipped with digital instrument cluster
CONS
Looks and feels cheap due to its Chinese relation
Poor sales, service reach
LIST OF ALL PURE EV BIKES
About Pure EV Bikes
Power Using Renewable Energy (PURE) is an electric two wheeler manufacturing company which was incubated out of IIT HYDERABAD in 2015,has focused on enabling transition to sustainable energy source and optimized performance for Indian road conditions. PURE EV manufacturing high performance portable Li-batteries and e- scooter since 2018. PURE EV introduce ETRANCE NEO which is coming with aerodynamic design and dashing looks.PURE EV gives you a varied range of options in electric scooters with significantly less TCO and environment-freiendly design, changing the world through its conscious approach towards emission and anxiety, low maintenance and safe speed limit.
Pure Epluto 7G USER REVIEWS
0 out of 5 stars (based on 0 reviews)
There are no reviews yet. Be the first one to write one.
© 2021 Bikeleague All Rights Reserved