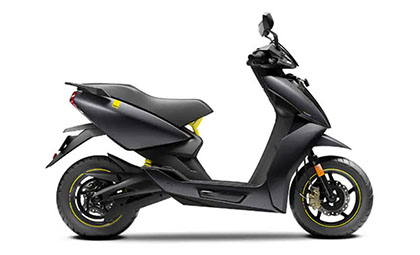 INTRODUCTION
Ather 450X is the most recent addition to the smart electric scooter lineup by Ather energy. The engine makes peak power of 6kW at Torque 26Nm and delivers 0-40 km/h in 3.3 sec. The scooter packs features and smart technologies. The Ather 450X features a new Android Open Source OS and a new Snapdragon 212 processor integrated with 4G LTE. The dashboard has a 7″ touchscreen with Bluetooth 4.2 connectivity and Google maps navigation. The electric scooter also gets front and back disc brakes and a reverse mode. There are two variants available – 450X and 450 Plus.
Ratings
0%

Performance

0%

Features

0%

Handling

0%

Comfort

0%

Build Quality

0%

Styling

0%

Value for Money

0%

Total
Price

SPECIAL FEATURES
4
7 INCH INTERACTIVE DASH
ATHER 450 X OVERVIEW
Ather 450X is the premium e-scooter launched by Ather Energy. This scooter avails Bluetooth connectivity that enables music and call controls. It comes with an integrated 4G LTE SIM connecting Google maps navigation, and digital document storage features a water-resistant battery, centrally mounted mono-shock suspension in the rear, and two-disc brakes (front and end).
Having a top speed of 80 Km/h and running up to 15km in 10 minutes, it has a peak power of 6 kW and a torque of 26Nm. A full-digital scooter with a 7" touchscreen display gets a 1.3 GHz Snapdragon processor making the Ather 450X the scooter of today. Introducing an android open-source operating system. Ather 450X has a reverse assist, 22 L storage, and a dedicated, connected and portable home charger.
The Ather app gives all the required information about the scooter; the battery percentage, charging percentage, ride statistics, bookings and Ather grids. Ather 450X has side stand sensors, incognito mode, guide-me-home lights, and monthly driving reports. It has a 3-year warranty on the vehicle, a 3-year warranty on the battery and comes with a home charging point as well.
Ather 450X is available in two models – 450X and 450 Plus. The scooter is launched in 4 colours- Space Grey, White, Mint Green, and Series1. The series one colour is a special edition one. Ather 450X is indeed about everything you imagined your next ride to be and beyond.
ATHER 450 X VERDICT
PROS
Decent range
Comfortable
Lightweight
CONS
Little exensive
Less space
Lacks rear view vision
About ATHER BIKES
Ather Bikes is here to capitalise on the huge technological disruption in the automobile industry set in motion by the entry of electric vehicles into the market. They work on creating intelligent electric vehicles that will shape urban commute and the cities of tomorrow. Company was founded in 2013 by Tarun Mehta and Swapnil Jain. They are also developing Grid – an extensive public charging network in your city. The project is already live in Bengaluru & Chennai with multiple charging points across both the cities. Currently two variants are available 450 X and 450 Plus.
Ather 450 X USER REVIEWS
0 out of 5 stars (based on 0 reviews)
There are no reviews yet. Be the first one to write one.
© 2022 Bikeleague All Rights Reserved