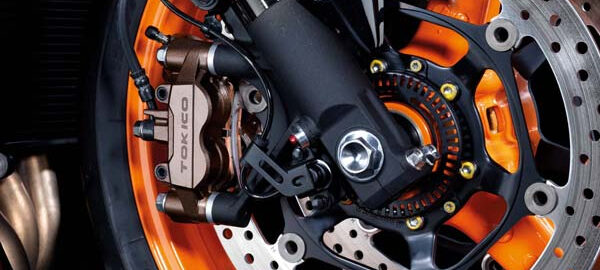 Long story short – Get all doubts related to motorcycle ABS right here and we will explain in simplest of simplest terms.
How ABS works?
ABS unit comprises speed and wheel lock sensors. This sensor sent the precise data in milliseconds to the processor in the control unit when the tyres are going to lock along with the rotational speed of the tyres. Now when the rider applies the brakes hard data from the control unit is sent to brake lever sensors and adjusts the brake force accordingly to avoid locking of tyres.
What is the difference between dual-channel ABS and single-channel ABS
Dual channel ABS comes with both front and rear sensor units while Single channel ABS consists of only one wheel speed sensor that too in the front section.
What is switchable ABS?
Switchable ABS allows the rider to disable rear-wheel ABS to make the ride adventurous and exciting for experienced riders, especially in off-road conditions.
What are the advantages of ABS?
Reduces stopping distance.
Averts locking of tyres.
Prevents skidding of motorcycle in all sorts of conditions.
Improved vehicle stability.
What are the disadvantages of ABS?
Increases the cost of motorcycle.
Added kerb weight.
Ride becomes less entertaining.
High maintenance cost.
Does ABS activate each time when we brake?
ABS comes into play only when sudden hard brakes are applied. The rider can feel increased resistance on brake levers while ABS is on.
Does ABS provide 100% safety?
No. ABS does help the rider to get out of tight situations and loss of control of the motorcycle but not in every scenario. It brings an extra layer of safety for the rider.
Is ABS mandatory for all two wheelers in India?
Only for motorcycles having 125cc or above launched after April 1, 2019. For motorcycles below 125cc launched after April 1, 2019, CBS (Combined Braking System) is a must.
What is the difference between ABS and CBS?
CBS can work on disc-drum combo while the ABS works only on disc brake combo. ABS improves reduces braking distance while CBS reduces rider reaction time.
Is there driving style change needed while ABS is fitted?
No change in driving style is required.
What if the ABS unit fails?
If any of the components fail, it gets switched off automatically without affecting the normal working of the brakes.