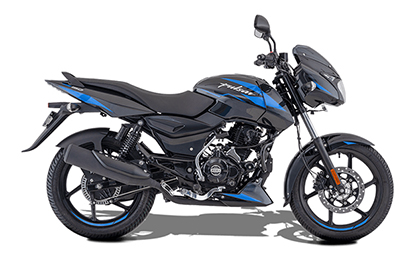 INTRODUCTION
Bajaj Pulsar 150 Twin Disc is a sports bike with the revolutionary patented DTS-i technology created wonders offering sheer power and stunning mileage. The company decided not to alter the internals while focusing on externals purely; they made this astonishing machine with Dual disc brakes for higher safety standards. It has a 149.5cc engine and has sporty looks and outstanding performance. Let's take a look to find out more about it. So how much does the Bajaj Pulsar 150 Twin Disc Price? Time to find out.
Ratings
90%

Performance

100%

Features

100%

Handling

100%

Comfort

90%

Build Quality

100%

Styling

95%

Value for Money

96%

Total
Price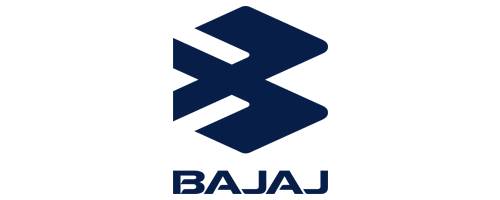 Price (Ex-showroom) - 1,10,419
SPECIAL FEATURES
1
TWIN SPARK, DTS-i ENGINE
4
5 STEP NITROX SUSPENSION
BAJAJ PULSAR 150 TWIN DISC OVERVIEW & PRICE
Bajaj Pulsar 150 Twin Disc is a sports bike available in India. It has a 149.5cc BS6 engine with all-new front and rear disc brakes. Bajaj Pulsar 150 Twin Disk comes up with an anti-locking braking system. It has a fuel tank capacity of 15 liters ranging up to 46-50km/l and weighs 148kg.
Despite being long in the tooth- the combination of muscular style, good fuel efficiency, and value for money makes it an extremely popular motorcycle in the two-wheeler market. The styling might not have been updated long ago, but the bike has received new color schemes and variants.
It uses a 149.5cc air-cooled single-cylinder engine that is fuel-injected and BS6 compliant. It delivers 13.8bhp and 13.4Nm of torque and comes mated to a five-speed transmission. The Pulsar 150 Twin Disc suspends telescopic front forks up front and dual springs with adjustable preload at the rear.
The main changes made to this model focus on the exterior parts, mainly on the braking. The braking setup consists of both disc brakes at the front and rear with ABS –Technology. The Bajaj Pulsar 150 comes in two variants and four colours-Sapphire Black Blue, Sparkle Black Silver, and Sparkle Black Red. The current ex-showroom Bajaj Pulsar 150 Twin Disc price is ₹ 1,10,419.
BAJAJ PULSAR 150 TWIN DISC VERDICT
PROS
Dual Disk Brakes
Good Engine performance
CONS
skinny rear tire
old instrument cluster
About BAJAJ BIKES
Bajaj a prominent player in the Indian motorcycle market, has solidified its position as a leading manufacturer of motorcycles, earning accolades both domestically and internationally. The brand has showcased a remarkable journey, beginning with the production of Chetak scooters in 1945 and subsequently transitioning to a focus on motorcycles in 1986, thus setting the stage for its rapid ascent in the industry.
A notable aspect of Bajaj's trajectory is its strategic partnerships with renowned global motorcycle giants. Its collaboration with Kawasaki in 1984 and KTM in 2007 significantly bolstered its technological prowess and product portfolio, enabling the company to offer an eclectic mix of motorcycles that cater to various segments of riders. While the collaboration with Kawasaki concluded in 2017, the technological advancements and expertise gained during these partnerships continue to underpin Bajaj's robust product offerings and innovative designs.
Bajaj's motorcycles are revered for their diverse range, encompassing high-performance sports bikes tailored for speed enthusiasts, as well as efficient and reliable commuter models designed for everyday use. This diverse product lineup has enabled Bajaj to cater to a wide spectrum of riders, solidifying its position as a brand that resonates with motorcycle enthusiasts both in India and across the globe.
Emphasizing technological innovation and sustainable practices, Bajaj has incorporated cutting-edge technologies into its motorcycles, ensuring a balance between power, performance, and environmental consciousness. This commitment to eco-friendly design and engineering underscores Bajaj's dedication to responsible manufacturing and its contribution to the global drive for a more sustainable future in the motorcycle industry. With a rich legacy of successful collaborations, technological advancements, and an unwavering commitment to excellence, Bajaj has firmly established itself as a brand of choice for motorcycle enthusiasts, not only in India but also in over 70 countries worldwide.
Bajaj Pulsar 150 Twin Disc USER REVIEWS
0.0 out of 5 stars (based on 0 reviews)
There are no reviews yet. Be the first one to write one.